Carry On:
A comic about hyenas – really!
Carry On for Friday, July 16, 2004: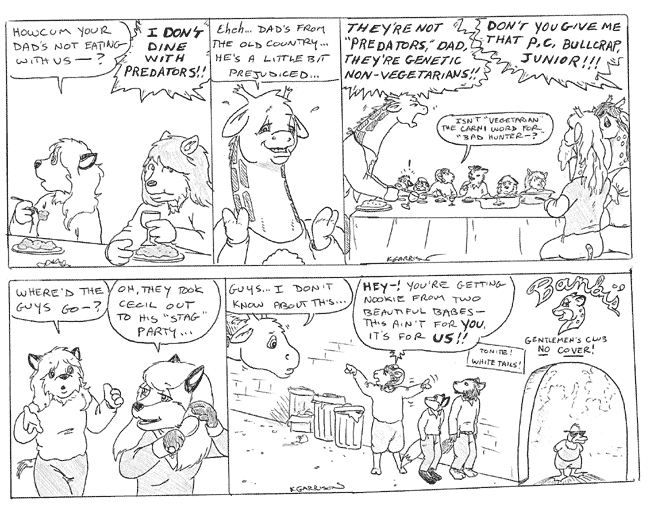 Kathy: Howcum your dad's not eating with us-?
Dad: I DON'T dine with predators!!

---
Cecil: Eheh... Dad's from the old country... He's a little bit prejudiced...

---
Cecil: They're not "predators," dad, they're genetic non-vegetarians!!
Dad: Don't you give me that P.C. pullcrap, Junior!!!
Allen: Isn't "Vegetarian" the Carni word for "bad hunter"-?

---
Kathy: Where'd the guys go-?
Jenny: Oh, they took Cecil out to his "stag" party...

---
Cecil: Guys... I don't know about this...
Allen: Hey-! You're getting nookie from two beautiful babes- This ain't for you, it's for us!!
Sign: Bambi's. Gentlemen's club. No cover! Tonite! White tails!


Sunday, July 1, 2017:Fred's Diaries

have won first place in this year's

Ursa Major Awards

, in the Best Novel category! Many thanks to everyone who voted for us!

NOTICE: Persons attempting to find a motive in this narrative will be prosecuted; persons attempting to find a moral in it will be banished; persons attempting to find a plot will be shot.

~ Mark Twain

All characters and artwork (C)2004-2015 K. Garrison (carryoncomics@hotmail.com) or their original creators.
This web comic site is Powered by Autofox 2.0 Web Comic Automation Software.
Pages created by Carl Foxmarten.