Carry On:
A comic about hyenas – really!
Carry On for Wednesday, July 14, 2004: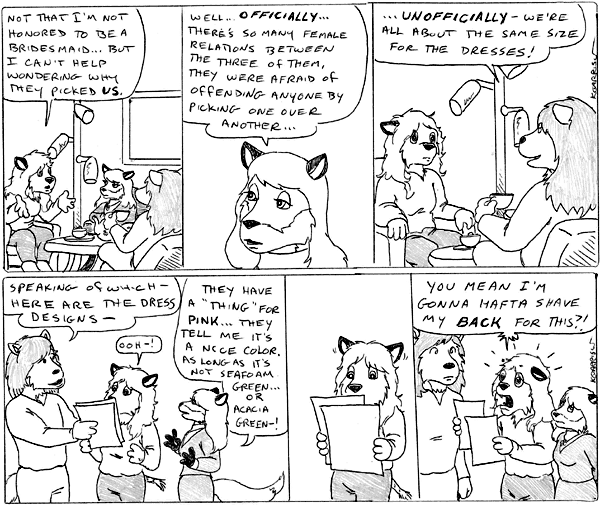 Kathy: Not that I'm not honored to be a bridesmaid... But I can't help wondering why they picked us.

---
Jenny: Well... Officially... There's so many female relations between the three of them, they were afraid of offending anyone by picking one over another...

---
Florence: ...Unofficially - We're all about the same size for dresses!

---
Florence: Speaking of which - Here are the dress designs-
Kathy: Ooh-!
Jenny: They have a "thing" for pink... They tell me it's a nice color. As long as it's not seafoam green... Or acacia green-!

---
Kathy: YOU MEAN I'M GONNA HAFTA SHAVE MY BACK FOR THIS?!


Sunday, July 1, 2017:Fred's Diaries

have won first place in this year's

Ursa Major Awards

, in the Best Novel category! Many thanks to everyone who voted for us!

NOTICE: Persons attempting to find a motive in this narrative will be prosecuted; persons attempting to find a moral in it will be banished; persons attempting to find a plot will be shot.

~ Mark Twain

All characters and artwork (C)2004-2015 K. Garrison (carryoncomics@hotmail.com) or their original creators.
This web comic site is Powered by Autofox 2.0 Web Comic Automation Software.
Pages created by Carl Foxmarten.