Carry On:
A comic about hyenas – really!
Carry On for Friday, August 6, 2004: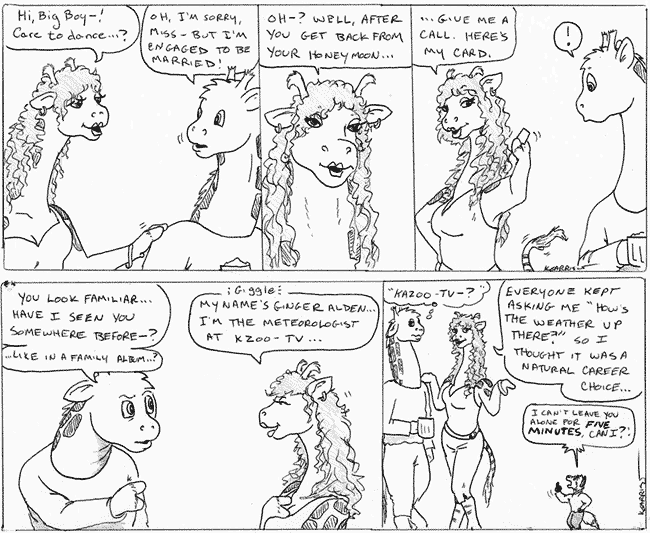 Ginger Alden: Hi, Big Boy-! Care to dance...?
Cecil: Oh, I'm sorry, Miss - But I'm engaged to be married!

---
Ginger: Oh-? Well, after you get back from your honeymoon...

---
Ginger: ...Give me a call. Here's my card.
Cecil: !

---
Cecil: You look familiar... Have I seen you somewhere before-? ...Like in a family album...?
Ginger: *giggle* My name's Ginger Alden... I'm the meteorologist at Kzoo-TV...

---
Cecil: "Kazoo-TV-?"
Ginger: Everyone kept asking me "How's the weather up there?" So I thought it was a natural career choice...
Jack: I can't leave you alone for five minutes, can I?!


Sunday, July 1, 2017:Fred's Diaries

have won first place in this year's

Ursa Major Awards

, in the Best Novel category! Many thanks to everyone who voted for us!

NOTICE: Persons attempting to find a motive in this narrative will be prosecuted; persons attempting to find a moral in it will be banished; persons attempting to find a plot will be shot.

~ Mark Twain

All characters and artwork (C)2004-2015 K. Garrison (carryoncomics@hotmail.com) or their original creators.
This web comic site is Powered by Autofox 2.0 Web Comic Automation Software.
Pages created by Carl Foxmarten.