Carry On:
A comic about hyenas – really!
Carry On for Wednesday, January 15, 2020: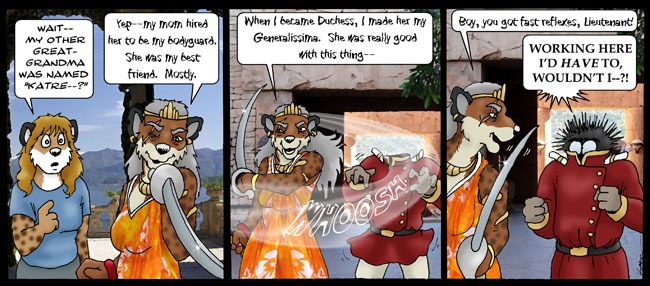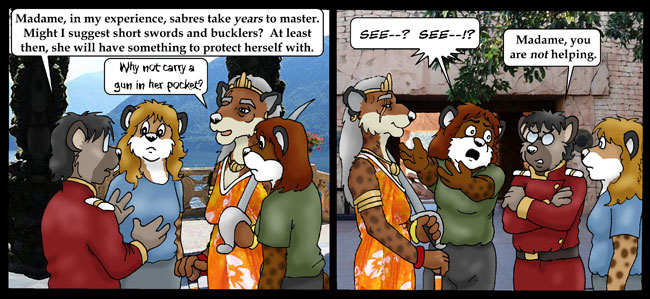 A: Heads Up!

---
Kathy: Wait— my other great-grandma was named "Katre—?"
Songween: Yep—my mom hired her to be my bodyguard. She was my best friend. Mostly.

---
Songween: When i became Duchess, I made her my Generalissima. She was really good with this thing—
Sfx: WHOOSH
(Songween sweeps the sword dramatically, narrowly missing Fred, who ducks)

---
Songween: Boy, you got fast reflexes, Lieutenant!
Fred: WORKING HERE I'D HAVE TO, WOULDN'T I—?!

---
B: Pocket Protector
---
Fred: Madame, in my experience, sabres take years to master. Might I suggest short swords and bucklers? at least then, she will have something to protect herself with.
Songween: Why not carry a gun in her pocket?

---
Sandy: SEE—? SEE—!?
Fred: Madame, you are not helping.


Sunday, July 1, 2017:Fred's Diaries

have won first place in this year's

Ursa Major Awards

, in the Best Novel category! Many thanks to everyone who voted for us!

NOTICE: Persons attempting to find a motive in this narrative will be prosecuted; persons attempting to find a moral in it will be banished; persons attempting to find a plot will be shot.

~ Mark Twain

All characters and artwork (C)2004-2015 K. Garrison (carryoncomics@hotmail.com) or their original creators.
This web comic site is Powered by Autofox 2.0 Web Comic Automation Software.
Pages created by Carl Foxmarten.