Carry On:
A comic about hyenas – really!
Carry On for Monday, January 13, 2020: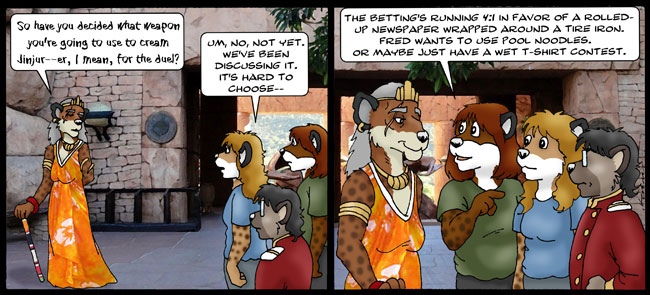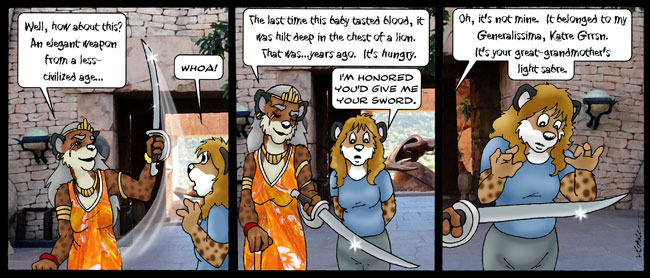 A: Full Frontal Noodlety

---
Songween: So have you decided what weapon you're going to use to cream Jinjur— er, I mean, for the duel?
Kathy: Um, no, not yet. We've been discussing it. It's hard to choose—

---
Sandy: The betting's running 4:1 in favor of a rolled-up newspaper wrapped around a tire iron. Fred wants to use pool noodles. Or maybe just have a wet t-shirt contest.

---
B: Hand-Me-Down
---
(Songween draws a curved sword)
Songween: Well, how about this? An elegant weapon from a less-civilized age...
Kathy: Whoa!

---
Songwwen: The last time this baby tasted blood, it was hilt deep in the chest of a lion. That was... years ago. It's hungry.
Kathy: I'm honored you'd give me your sword.

---
Songween: Oh, it's not mine. It belonged to my Generalissima, Katre Grrsn. It's your great-grandmother's light sabre.


Sunday, July 1, 2017:Fred's Diaries

have won first place in this year's

Ursa Major Awards

, in the Best Novel category! Many thanks to everyone who voted for us!

NOTICE: Persons attempting to find a motive in this narrative will be prosecuted; persons attempting to find a moral in it will be banished; persons attempting to find a plot will be shot.

~ Mark Twain

All characters and artwork (C)2004-2015 K. Garrison (carryoncomics@hotmail.com) or their original creators.
This web comic site is Powered by Autofox 2.0 Web Comic Automation Software.
Pages created by Carl Foxmarten.