Carry On:
A comic about hyenas – really!
Carry On for Friday, October 25, 2019: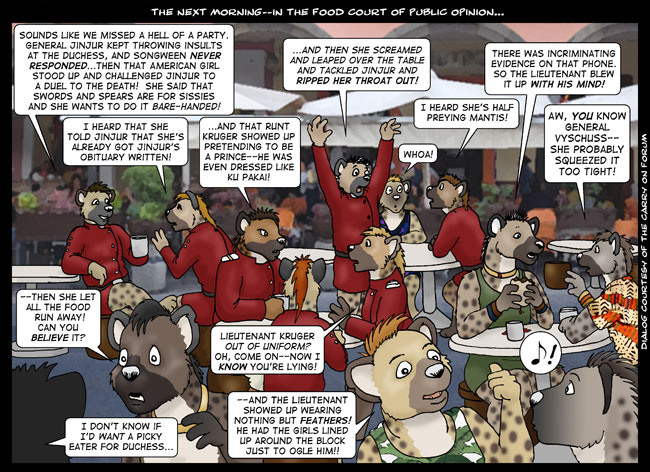 True Stories

---
Caption: The Next Morning— in the Food Court of Public Opinion...

---
Brigadier 1: Sounds like we missed a hell of a party. General Jinjur kept throwing insults at the Duchess, and Songween never responded. Then that American girl stood up and challenged Jinjur to a duel to the death! She said that swords and spears are for sissies and she wants to do it bare-handed!
Brigadier 2: I heard that she told Jinjur that she's already got Jinjur's obituary written!
Brigadier 3: ...and then she screamed and leaped over the table and tackled Jinjur and ripped her throat out!
Townsperson 1: Whoa!
Brigadier 4: I heard she's half preying mantis!
Townsperson 2: There was incriminating evidence on that phone, so the Lieutenant blew it up with his mind!
Townsperson 3: Aw, you know General Vyschuss— she probably squeezed it too tight!
Brigadier 5: And that runt Kruger showed up pretending to be a prince— he was even dressed like Ku Pakai!
Brigadier 6: Lieutenant Kruger out of uniform? Oh, come on— know I know you're lying!
Townsperson 4: —Then she let all the food run away! Can you believe it?
Townsperson 5: I don't know if I'd want a picky eater for a Duchess...
Townsperson 6: —And the Lieutenant showed up wearing nothing but feathers! He had the girls lined up around the block just to ogle him!!


Sunday, July 1, 2017:Fred's Diaries

have won first place in this year's

Ursa Major Awards

, in the Best Novel category! Many thanks to everyone who voted for us!

NOTICE: Persons attempting to find a motive in this narrative will be prosecuted; persons attempting to find a moral in it will be banished; persons attempting to find a plot will be shot.

~ Mark Twain

All characters and artwork (C)2004-2015 K. Garrison (carryoncomics@hotmail.com) or their original creators.
This web comic site is Powered by Autofox 2.0 Web Comic Automation Software.
Pages created by Carl Foxmarten.