Carry On:
A comic about hyenas – really!
Carry On for Friday, March 23, 2018: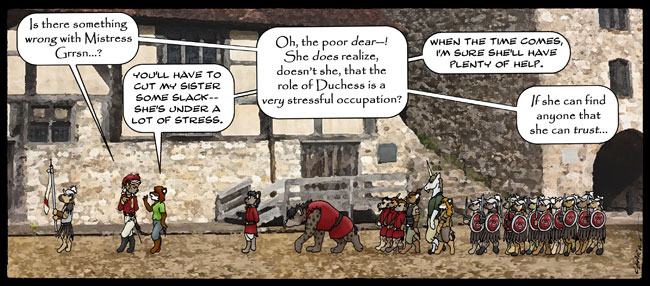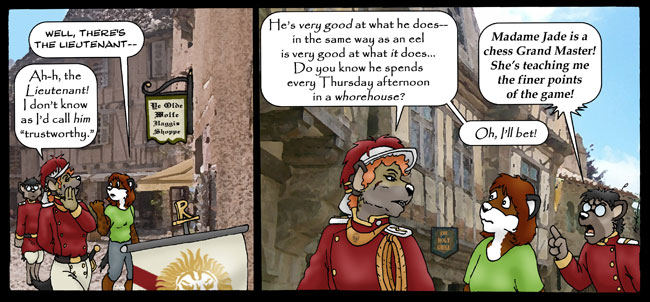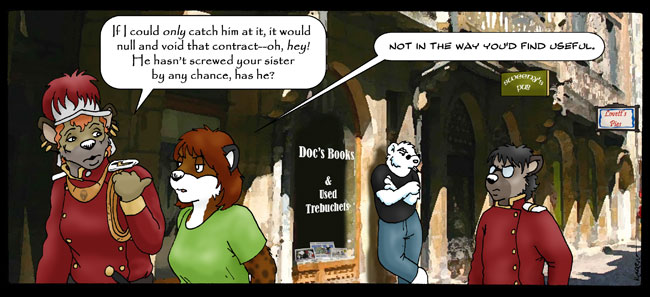 A: It's Lonely At The Top

---
Jinjur: Is there something wrong with Mistress Grrsn...?
Sandy: You'll have to cut my sister some slack— she's under a lot of stress.
Jinjur: Oh, the poor dear—! She does realize, doesn't she, that the role of Duchess is a very stressful occupation?
Sandy: When the time comes, I'm sure she'll have plenty of help.
Jinjur: If she can can find anyone that she can trust...

---
B: How To Play The Game
---
StoreSign: Ye Olde Wolfe Haggis Shoppe
Sandy: Well, there's the Lieutenant—
Jinjur: Ah-h, the Lieutenant! I don't know as I'd call him "trustworthy."

---
Jinjur: He's very good at what he does— in the same way as an eel is very good at what it does... Do you know he spends every Thursday afternoon in a whorehouse?
Fred: Madame Jade is a chess Grand Master! She's teaching me the finer points of the game!
Jinjur: Oh, I'll bet!
StoreSign: The Holy Grill

---
C: Screwed
---
Jinjur: If I could only catch him at it, it would null and void that contract— oh, hey! Hey hasn't screwed your sister by any chance, has he?
Sandy: Not in the way you'd find useful.
StoreWindow: Doc's Books & Used Trebuchets
StoreSign: Sweeney's Pub
Lovett's Pies


Sunday, July 1, 2017:Fred's Diaries

have won first place in this year's

Ursa Major Awards

, in the Best Novel category! Many thanks to everyone who voted for us!

NOTICE: Persons attempting to find a motive in this narrative will be prosecuted; persons attempting to find a moral in it will be banished; persons attempting to find a plot will be shot.

~ Mark Twain

All characters and artwork (C)2004-2015 K. Garrison (carryoncomics@hotmail.com) or their original creators.
This web comic site is Powered by Autofox 2.0 Web Comic Automation Software.
Pages created by Carl Foxmarten.