Carry On:
A comic about hyenas – really!
Carry On for Friday, May 21, 2010: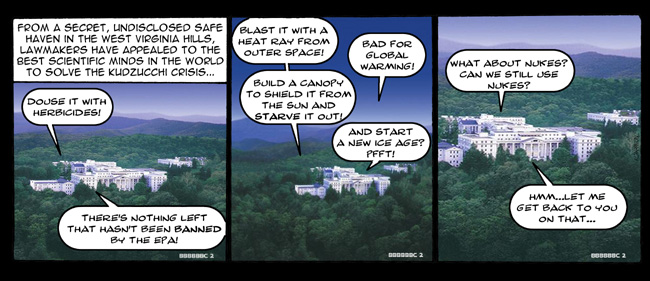 Narrator: From a secret, undisclosed safe haven in the West Virginia hills, lawmakers have appealed to the best scientific minds in the world to solve the kudzucchi crisis...
Scientist: Douse it with herbicides!
Congressman: There's nothing left that hasn't been banned by the EPA!

---
Scientist: Blast it with a heat ray from outer space!
Congressman: Bad for global warming!
Scientist: Build a canopy to shield it from the sun and starve it out!
Congressman: And start a new ice age? Pfft!

---
Scientist: What about nukes? Can we still use nukes?
Congressman: Hmm... let me get back to you on that...


Sunday, July 1, 2017:Fred's Diaries

have won first place in this year's

Ursa Major Awards

, in the Best Novel category! Many thanks to everyone who voted for us!

NOTICE: Persons attempting to find a motive in this narrative will be prosecuted; persons attempting to find a moral in it will be banished; persons attempting to find a plot will be shot.

~ Mark Twain

All characters and artwork (C)2004-2015 K. Garrison (carryoncomics@hotmail.com) or their original creators.
This web comic site is Powered by Autofox 2.0 Web Comic Automation Software.
Pages created by Carl Foxmarten.