Carry On:
A comic about hyenas – really!
Carry On for Monday, May 10, 2010: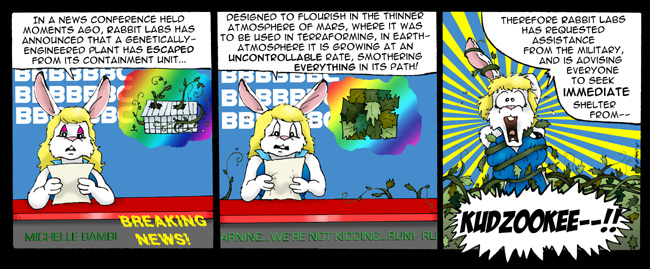 TV: Breaking News!
MichelleBambi: In a news conference held moments ago, Rabbit Labs has announced that a genetically-engineered plant has escaped from its containment unit...

---
TV: Warning... We're not kidding... Run! Run!
MichelleBambi: Designed to flourish in the thinner atmosphere of Mars, where it was to be used in terraforming, in Earth atmosphere it is growing at an uncontrollable rate, smothering everything in its path!

---
MichelleBambi: Therefore Rabbit Labs has requested assistance from the military, and is advising everyone to seek IMMEDIATE shelter from— KUDZOOKEE—!! Kudzucchi Kudzooki


Sunday, July 1, 2017:Fred's Diaries

have won first place in this year's

Ursa Major Awards

, in the Best Novel category! Many thanks to everyone who voted for us!

NOTICE: Persons attempting to find a motive in this narrative will be prosecuted; persons attempting to find a moral in it will be banished; persons attempting to find a plot will be shot.

~ Mark Twain

All characters and artwork (C)2004-2015 K. Garrison (carryoncomics@hotmail.com) or their original creators.
This web comic site is Powered by Autofox 2.0 Web Comic Automation Software.
Pages created by Carl Foxmarten.