Carry On:
A comic about hyenas – really!
Carry On for Monday, May 17, 2010: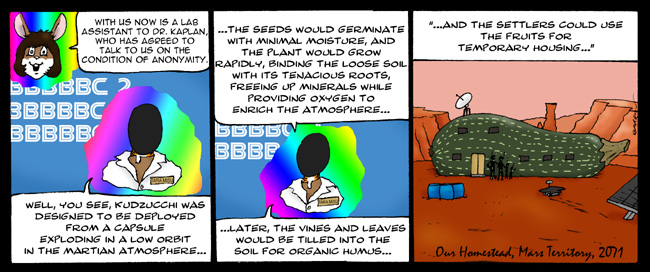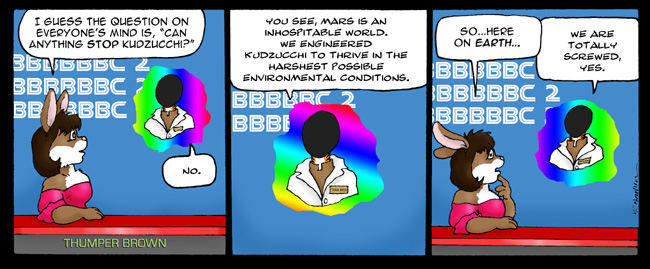 A:

---
ThumperBrown: With us now is a lab assistant to Dr. Kaplan, who has agreed to talk to us on the condition of anonymity.
LabAsst: Well, you see, Kudzucchi was designed to be deployed from a capsule exploding in a low orbit in the Martian atmosphere...

---
LabAsst:...the seeds would germinate with minimal moisture, and the plant would grow rapidly, binding the loose soil with its tenacious roots, freeing up minerals while providing oxygen to enrich the atmosphere...
LabAsst: Later, the vines and leaves would be tilled into the soil for organic humus...

---
LabAsst: ...and the settlers could use the fruits for temporary housing...

---
B:
---
ThumperBrown: I guess the question on everyone's mind is, "Can anything stop Kudzucchi?"
LabAsst: No.

---
LabAsst: You see, Mars is an inhospitable world. We engineered Kudzucchi to thrive in the harshest possible environmental conditions.

---
ThumperBrown: So... here on EARTH...
LabAsst: We are totally screwed, yes.


Sunday, July 1, 2017:Fred's Diaries

have won first place in this year's

Ursa Major Awards

, in the Best Novel category! Many thanks to everyone who voted for us!

NOTICE: Persons attempting to find a motive in this narrative will be prosecuted; persons attempting to find a moral in it will be banished; persons attempting to find a plot will be shot.

~ Mark Twain

All characters and artwork (C)2004-2015 K. Garrison (carryoncomics@hotmail.com) or their original creators.
This web comic site is Powered by Autofox 2.0 Web Comic Automation Software.
Pages created by Carl Foxmarten.