Carry On:
A comic about hyenas – really!
Carry On for Monday, August 9, 2004: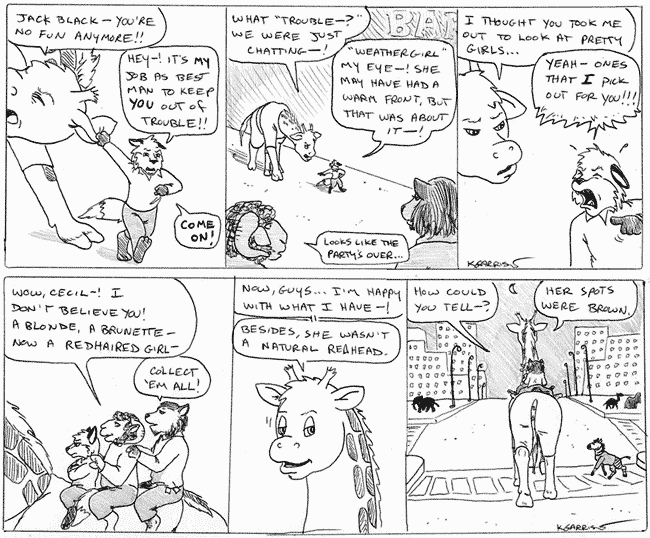 Cecil: Jack Black - You're no fun anymore!!
Jack: Hey-! It's my job as best man to keep you out of trouble!! Come on!

---
Cecil: What "trouble-?" We were just chatting-!
Jack: "Weather girl" my eye-! She may have had a warm front, but that was about it-!
Allen: Looks like the party's over...

---
Cecil: I thought you took me out to look at pretty girls...
Jack: Yeah - Ones that I pick out for you!!!

---
Allen: Wow, Cecil-! I don't believe you! A blonde, a brunette - Now a redhaired girl-
Keith: Collect 'em all!

---
Cecil: Now, guys... I'm happy with what I have-! Besides she wasn't a natural redhead.

---
Allen: How could you tell-?
Cecil: Her spots were brown.


Sunday, July 1, 2017:Fred's Diaries

have won first place in this year's

Ursa Major Awards

, in the Best Novel category! Many thanks to everyone who voted for us!

NOTICE: Persons attempting to find a motive in this narrative will be prosecuted; persons attempting to find a moral in it will be banished; persons attempting to find a plot will be shot.

~ Mark Twain

All characters and artwork (C)2004-2015 K. Garrison (carryoncomics@hotmail.com) or their original creators.
This web comic site is Powered by Autofox 2.0 Web Comic Automation Software.
Pages created by Carl Foxmarten.