Carry On:
A comic about hyenas – really!
Carry On for Wednesday, September 1, 2004: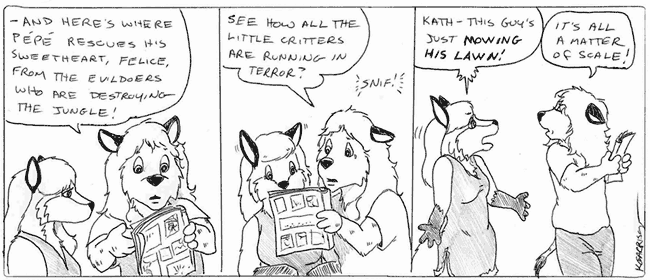 Kathy: -And here's where PepePépé rescues his sweetheart, Felice, from the evildoers who are destroying the jungle!

---
Kathy: See how all the little critters are running terror? *snif!*

---
Jenny: Kath - This guy's just mowing his lawn!
Kathy: It's all a matter of scale!


NOTICE: Persons attempting to find a motive in this narrative will be prosecuted; persons attempting to find a moral in it will be banished; persons attempting to find a plot will be shot.

~ Mark Twain

All characters and artwork (C)2004-2015 K. Garrison (carryoncomics@hotmail.com) or their original creators.
This web comic site is Powered by Autofox 2.0 Web Comic Automation Software.
Pages created by Carl Foxmarten.