Carry On:
A comic about hyenas – really!
Carry On for Wednesday, January 25, 2017: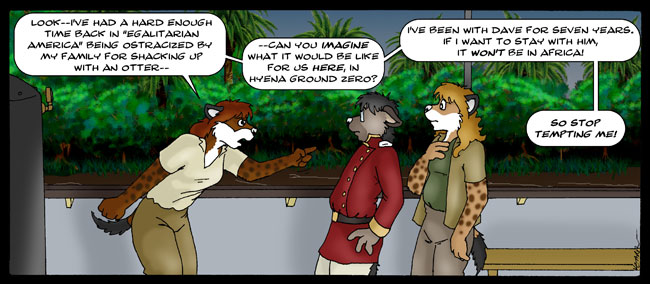 The Temptations

---
Sandy: Look— I've had a hard enough time back in "Egalitarian America" being ostracized by my family for shacking up with an otter— Can you imagine what it would be like for us here, in hyena ground zero? I've been with Dave for seven years. If I want to stay with him, It won't be in Africa! So stop tempting me!


Sunday, July 1, 2017:Fred's Diaries

have won first place in this year's

Ursa Major Awards

, in the Best Novel category! Many thanks to everyone who voted for us!

NOTICE: Persons attempting to find a motive in this narrative will be prosecuted; persons attempting to find a moral in it will be banished; persons attempting to find a plot will be shot.

~ Mark Twain

All characters and artwork (C)2004-2015 K. Garrison (carryoncomics@hotmail.com) or their original creators.
This web comic site is Powered by Autofox 2.0 Web Comic Automation Software.
Pages created by Carl Foxmarten.