Carry On:
A comic about hyenas – really!
Carry On for Monday, July 9, 2018: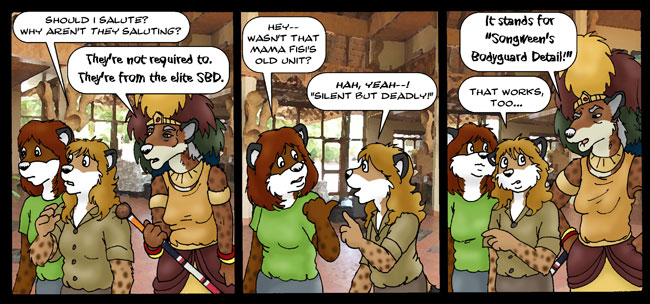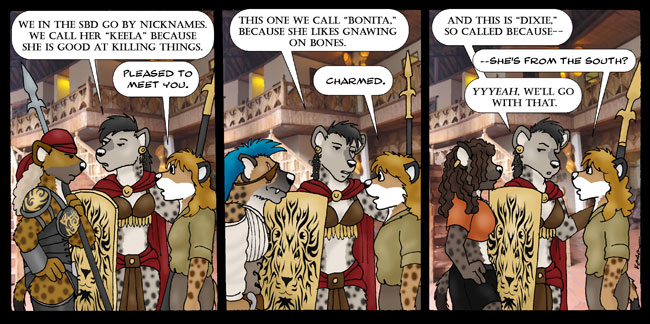 A: Acronyms

---
Kathy: Should I salute? Why aren't they saluting?
Songween: They're not required to. They're from the elite SBD.

---
Sandy: Hey— wasn't that Mama Fisi's old unit?
Kathy: Hah, yeah—! "Silent But Deadly!"

---
Songween: It stands for "Songween's Bodyguard Detail!"
Kathy: That works, too...

---
B: Pseudonyms
---
Azkikka: We in the SBD go by nicknames. We call her "Keela" because she is good at killing things.
Kathy: Pleased to meet you.

---
Azkikka: This one we call "Bonita," because she likes gnawing on bones.
Kathy: Charmed.

---
Azkikka: And this is "Dixie," so called because—
Kathy: —She's from the South?
Azkikka: Yyyeah. We'll go with that.


Sunday, July 1, 2017:Fred's Diaries

have won first place in this year's

Ursa Major Awards

, in the Best Novel category! Many thanks to everyone who voted for us!

NOTICE: Persons attempting to find a motive in this narrative will be prosecuted; persons attempting to find a moral in it will be banished; persons attempting to find a plot will be shot.

~ Mark Twain

All characters and artwork (C)2004-2015 K. Garrison (carryoncomics@hotmail.com) or their original creators.
This web comic site is Powered by Autofox 2.0 Web Comic Automation Software.
Pages created by Carl Foxmarten.