Carry On:
A comic about hyenas – really!
Carry On for Monday, February 13, 2017: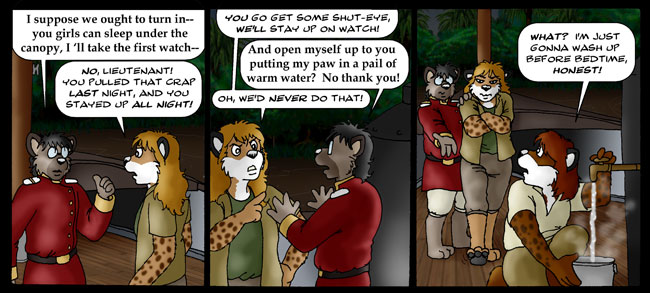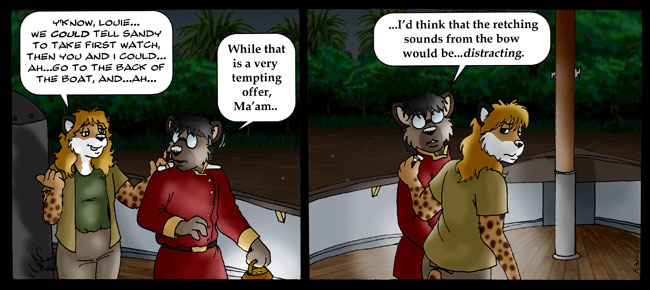 A: In Hot Water

---
Fred: I suppose we ought to turn in — you girls can sleep under the canopy, I'll take the first watch —
Kathy: No, lieutenant! You pulled that crap last night, and you stayed up all night!

---
Kathy: You go get some shut-eye, we'll stay up on watch!
Fred: And open myself up to you putting my paw in a pail of warm water? No thank you!
Kathy: Oh, we'd never do that!

---
Fred: (points)
Sandy: What? I'm just gonna wash up before bedtime, honest!

---
B: Wet Blanket
---
Kathy: Y'know, Louie... we could tell Sandy to take first watch, then you and I could... ah... go to the back of the boat, and... ah...
Fred: While that is a very tempting offer Ma'am..

---
Fred: ...I'd think that the retching sounds from the bow would be... distracting.


Sunday, July 1, 2017:Fred's Diaries

have won first place in this year's

Ursa Major Awards

, in the Best Novel category! Many thanks to everyone who voted for us!

NOTICE: Persons attempting to find a motive in this narrative will be prosecuted; persons attempting to find a moral in it will be banished; persons attempting to find a plot will be shot.

~ Mark Twain

All characters and artwork (C)2004-2015 K. Garrison (carryoncomics@hotmail.com) or their original creators.
This web comic site is Powered by Autofox 2.0 Web Comic Automation Software.
Pages created by Carl Foxmarten.