Carry On:
A comic about hyenas – really!
Carry On for Friday, June 11, 2010: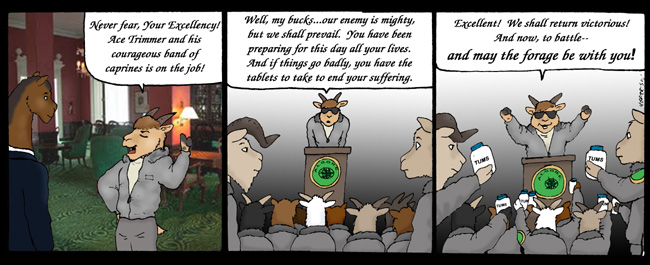 A:

---
AlgoreGoat: Never fear, Your Excellency! Ace Trimmer and his courageous band of caprines is on the job!

---
AceTrimmer: Well, my bucks... our enemy is mighty, but we shall prevail. You have been preparing for this day all your lives. And if things go badly, you have the tablets to end your suffering.

---
AceTrimmer: Excellent! We shall return victorious! And now, to battle— and may the forage be with you!

---
B:
---
ThumperBrown: After several weeks of round-the-clock effort, Ace Trimmer, leader of A.L.G.O.R.E., has announced that the spread of kudzucchi has been stopped!

---
AceTrimmer: The threat has been *URP* neutralized...! Mission Accomplished!

---
Kathy: Well, that's a relief! Looks like we can all get back to our normal—
ThumperBrown: Breaking News!!!! Washingtoon is being surrounded by a horde of giant mutant goats!


Sunday, July 1, 2017:Fred's Diaries

have won first place in this year's

Ursa Major Awards

, in the Best Novel category! Many thanks to everyone who voted for us!

NOTICE: Persons attempting to find a motive in this narrative will be prosecuted; persons attempting to find a moral in it will be banished; persons attempting to find a plot will be shot.

~ Mark Twain

All characters and artwork (C)2004-2015 K. Garrison (carryoncomics@hotmail.com) or their original creators.
This web comic site is Powered by Autofox 2.0 Web Comic Automation Software.
Pages created by Carl Foxmarten.