Carry On:
A comic about hyenas – really!
Carry On for Wednesday, August 10, 2011: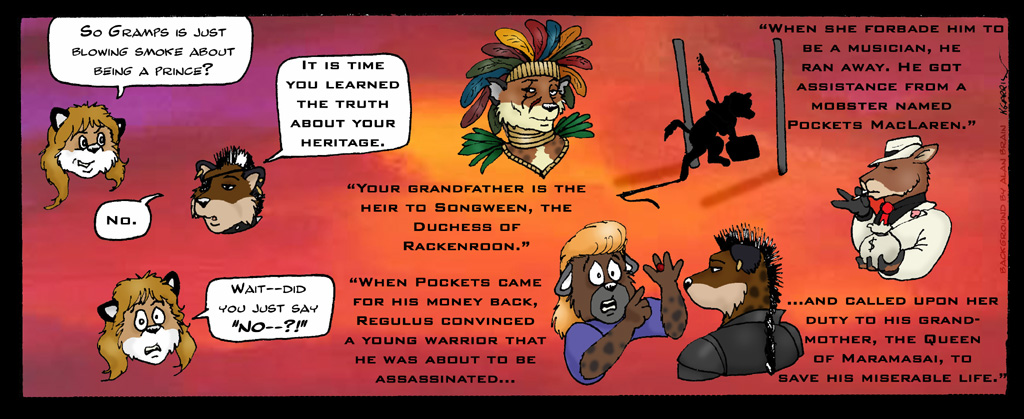 A Prince's Ransom

---
Kathy: So Gramps is just blowing smoke about being a prince?
Penthesilia: No. It is time you learned the truth about your heritage.
Kathy: Wait — did you just say "NO — ?!"
Penthesilia (telling story): Your grandfather is the heir to Songween, the Duchess of Rackenroon.
When she forbade him to be a musician, he ran away. He got assistance from a mobster named Pockets MacLaren.
Penthesilia (telling story): When Pockets came for his money back, Regulus convinced a young warrior that he was about to be assassinated...
Penthesilia (telling story): ...and called upon her duty to his grandmother, the Queen of Maramasai, to save his miserable life.


Sunday, July 1, 2017:Fred's Diaries

have won first place in this year's

Ursa Major Awards

, in the Best Novel category! Many thanks to everyone who voted for us!

NOTICE: Persons attempting to find a motive in this narrative will be prosecuted; persons attempting to find a moral in it will be banished; persons attempting to find a plot will be shot.

~ Mark Twain

All characters and artwork (C)2004-2011 K. Garrison (carryoncomics@hotmail.com) or their original creators.
This web comic site is Powered by Autofox 2.0 Web Comic Automation Software.
Pages created by Carl Foxmarten.